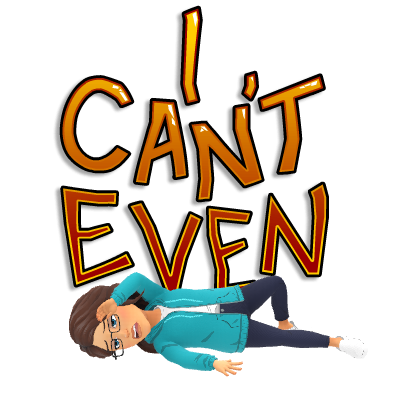 Just...GAH!
I'm so overwhelmed and haven't been able to read my
Feedly
or get a post in.
I should be grading or planning, or at home packing for this weekend's
EdTechTeam
Google Summit, but I decided to try and get a post in.
So what has been going on since the last post? Let me tell you...
With broken up weeks because of holidays, and testing, etc. We haven't had a Passion Project Day in a while, and it looks like we may only have one after the students get back from Thanksgiving Break and before "Winter" Break. I'm still making them blog about it though, to hopefully encourage them to work on it. I've decided to start making the blog post due every other week though instead of every week. I have barely made a dent in grading them, so if I'm drowning in them, the kids must be too.
Still on the subject of the Passion Project, we (mostly) finished up our presentations of our proposals. There were a few things that stood out to me:
One student said the project is helping them start to figure out what they want to do in life.
One is doing a project about the bass guitar and naming it "All About That Bass" (I thought that was cute)
One is doing his on the topic of the brain and depression.
I have a few groups of students who are going to make their own video game
One is going to learn American Sign Language
One is doing one on Slacklining
One group is doing one on preventing baseball injuries
and, one is doing one on Autism because he wants to give families back hope.
The group of 5 I talked about in my
last post
are still together. I pulled them aside and asked them to figure out how to break into two groups or to create a presentation to convince me to allow them to stay together. They did a pretty good job, though one girl was the clear "ringleader".
Besides getting blogs and comments graded and into the books, I need to start planning out the elevator pitch that I originally planned for the end of the semester...I guess we will see.
Last week, I had a really transformative experience when I participated in a training for
Safe School Ambassadors
with 6 other teachers and 15 students. It's really hard to put into words what it was like, but I'm looking forward to helping students (and myself) change for the better and help others change because of that. This also inspired me to say yes to a request to send me to Orlando in February for an Anti-Bullying conference that I didn't want to do previously because I didn't want to pulled out again. But, this issue is really important.
I will be spending my break coming in to do work. I need to plan out the Edgar Allan Poe Unit for my 10th graders all the while going into their To Kill a Mockingbird essays do when we get back to give them feedback.
I'm hoping this enormous feeling of being overwhelmed will lessen a bit when I finish my Masters at the end of the school year. I need to find more time to fit in some yoga.