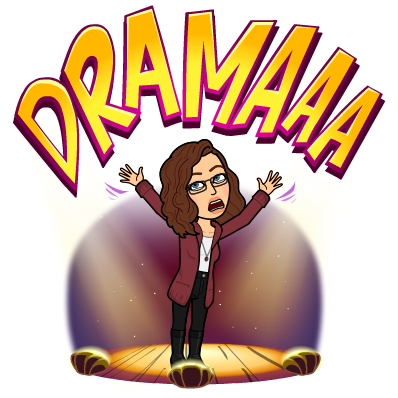 I know. Trust me, I know. It's been over two months now since I last blogged. I'm sorry for those that actually read what I put out there.
I'm just going to be bluntly honest (not that that I'm often not), and tell you this last month, in particular, has been emotionally taxing. I was hoping to get caught up on my grading during the holiday break, and while I did in the last week get the 5 sets of 5 blog posts and 4 comments graded, I ended up having to deal with something a little more pertinent, particularly that first week.
The Sunday before Christmas, I got into a car accident, or more accurately, I was forced into a car accident. I've been dealing with the aftermath ever since. I'm physically okay for the most part, just lots of trips to the chiropractor. And, the logistics of everything but bodily injury have been taken care of. But, emotionally--between thinking I was going to die (yup, she went there) and already being stretched thin emotionally with work and my graduate work and having to replace the life saving car that I had had for 9 years (a very pretty blue Honda Civic that I called Belle) with a new car (a very pretty blue Kia Soul named Luna)--it has been noticeably draining.
But now that the semester is over, all the grades are in (well, all except maybe two, but that depends on if I get an essay on the positive effects of procrastination from a particular someone on Monday morning, and if one student is out of the hospital and can take their final--I hope that is the case), and I finished the working draft of my section of a group literature review for my graduate group's action research project on badges in education, I have a little time to sit down and do some reflecting on my teaching through the written word.
Let me start with the most important tech tool
EdTechTeam
Google Summit I mentioned in my last post gave me. I've used it with my 10th-grade honors students a few times now. I love it, and the kids are still making up their minds about it, but let me--if you don't already know about it--introduce you to
ActivelyLearn.
There are different pricing level's, but there is a free level, which my account reverts to tomorrow (I think) after getting a free trial upgrade from the summit. You can find some content that comes with questions and notes built in; you can start completely from scratch or add your questions and comments to the ones that already exist. You can add media right into the story. I put pictures and videos in the margin notes, which was helpful with "Murders in the Rue Morgue". You can also add media and directions to the beginning of the story, like this
video I added for "The Tell-Tale Heart".
The aspect I enjoy most about ActivelyLearn though is the ability to grade by question, rather than student. This is immensely helpful in seeing where the weaknesses and needs are for the class. For example, for "The Raven" (we just finished a unit of Edgar Allan Poe if you didn't guess), I had added a question about the setting of the poem. If I was grading it student-by-student, all questions at once, I might not have caught the fact that many of them were forgetting that setting is both time AND place and address it with them. I was also grading as they were reading and answering questions so, in some cases, they were getting real-time feedback from me on their answers.
I also like the fact that teachers can reset students' answers, or that students can request this themselves. That way you can give them a chance to get it right. Sometimes they still don't get it.
I was tempted to give him points for persistence.
But, they often come up with answers that make you chuckle.
As a Walking Dead fan, I enjoyed this answer.
ActivelyLearn integrates well with
Google Classroom
. You can set up your assignments for Classroom from ActivelyLearn. You can also pull your roster to create the class from Classroom as well.
You don't have to be an English teacher. They have content for various subject areas and grade levels, and--depending on your price plan--you can upload your own text. I highly suggest you check it out and, at least, give it a try. I'm probably going to try it with my 11th graders for "The Battle with Mr. Covey" and "The Lowest Animal".
I think I'll leave it there for now. I'll follow up with a quick post about the fun we had reading "Masque of the Red Death" in my next post.